Nintendo 3DS
Nintendo 3DS

An aqua Nintendo 3DS in the open position.

Also known as

3DS (abbreviation)
Developer
Nintendo RED
Manufacturer
Nintendo, Foxconn
Product family
Nintendo 3DS family
Type
Handheld game console
Generation
Eighth generation
Release date

Nintendo 3DS:
JP: February 26, 2011
EU: March 25, 2011
NA: March 27, 2011
AU: March 31, 2011


Nintendo 3DS XL:
JP: July 28, 2012
EU: July 28, 2012
AU: August 23, 2012br />NA: August 19, 2012
Retail availability
2011–present
Introductory price
Nintendo 3DS:
¥25,000/US$249/AU$349.95
Nintendo 3DS XL: ¥18,900/US$199/AU$349
Units shipped
Original: 26.25 million (2018-3-31)
All models combined: 73.53 million (2018-09-30)
Media
Physical and digital
Nintendo 3DS Game Card
Nintendo DS Game Card
Digital distribution (Nintendo eShop)
SD/SDHC card
Operating system
Nintendo 3DS system software
CPU
268MHz Dual-Core ARM11 MPCore, single-core ARM9
Memory
128 MB FCRAM, 6 MB VRAM
Storage
1 GB internal flash memory
Removable storage
Included 2 GB SD card (3DS)
Included 4 GB SDHC card (3DS XL)
Cartridge save
Display
LCD screens
Nintendo 3DS:
Upper: 3.53" autostereoscopic (3D) LCD @ 800 × 240 px (400 × 240 WQVGA per eye)
Lower: 3.00" resistive touchscreen LCD @ 320 × 240 (QVGA)
Nintendo 3DS XL:
Upper: 4.88" autostereoscopic (3D) LCD @ 800 × 240 px (400 × 240 WQVGA per eye)
Lower: 4.18" resistive touchscreen LCD @ 320 × 240 (QVGA)
Graphics
DMP PICA200 GPU
Sound
Stereo speakers (pseudo-surround), microphone
Input
A/B/X/Y buttons, Circle Pad, L/R bumpers, D-pad, 3D depth slider, volume slider, wireless switch, power button
Camera
One user-facing and two forward-facing VGA cameras
Connectivity
2.4 GHz 802.11b/g Wi-Fi, Infrared
Power
Battery
Nintendo 3DS:
1300 mAh, 3.7 V lithium-ion battery
3DS games: 3 to 5 hours
DS games: 5 to 8 hours
Sleep Mode: ≈ 3 days
Nintendo 3DS XL:
1750 mAh, 3.7 V lithium-ion battery
3DS games: 3.5 to 6.5 hours
DS games: 7 to 10 hours
Sleep Mode: ≈ 3 days
Online services
Dimensions
Body
Nintendo 3DS:
Width: 134 mm (5.3 in)
Height: 74 mm (2.9 in)
Depth: 21 mm (0.83 in)
Nintendo 3DS XL:
Width: 156 mm (6.1 in)
Height: 93 mm (3.7 in)
Depth: 22 mm (0.87 in)
Mass
Body
Nintendo 3DS:
235 grams (8.3 oz)
Nintendo 3DS XL:
336 grams (11.9 oz)
Best-selling game
Mario Kart 7, 17.52 million units
(2018-09-30)
Backward
compatibility
Nintendo DS
Predecessor
Nintendo DS
Successor
New Nintendo 3DS
Website
www.nintendo.com/3ds
Introduction
[
edit
]
The Nintendo 3DS, or simply the 3DS, is a handheld game console produced by Nintendo. It is capable of displaying stereoscopic 3D effects without the use of 3D glasses or additional accessories. Nintendo announced the console in March 2010 and officially unveiled it at E3 2010 on June 15, 2010. The console succeeds the Nintendo DS, featuring backward compatibility with older Nintendo DS video games. Its primary competitor is the PlayStation Vita from Sony.
The handheld offers new features such as the StreetPass and SpotPass tag modes, powered by Nintendo Network; augmented reality, using its 3D cameras; and Virtual Console, which allows owners to download and play games originally released on older video game systems. It is also pre-loaded with various applications including these: an online distribution store called Nintendo eShop, a social networking service called Miiverse; an Internet Browser; the Netflix, Hulu Plus and YouTube streaming video services; Nintendo Video; a messaging application called Swapnote (known as Nintendo Letter Box in Europe and Australia); and Mii Maker.
Specifications
[
edit
]
Hardware
[
edit
]
The following explicitly refers to the original Nintendo 3DS model. Some technical details do not apply to later Nintendo 2DS and New Nintendo 3DS models
The console has custom components codeveloped by the Nintendo Research & Engineering Department and other manufacturers, all combined into a unified system on chip. The main processor (CPU) is an ARM11 MPCore-based dual-core processor manufactured at 45 nm. One processor core is dedicated to games and applications, while the other core is exclusive to the operating system, enabling multitasking and background tasks. These tasks are handled seamlessly in the background during gameplay or while the system is in sleep mode. The system also contains a single-core ARM9 processor, enabling backward compatibility with Nintendo DS games. The graphics processor (GPU) is developed by Digital Media Professionals, and consists of a semi-custom PICA200 processor.
The system contains a total of 128 MB of system memory consisting of two 64 MB (512 Mb) FCRAM chips developed by Fujitsu, with a maximum bandwidth of 3.2 GB/s. However, 32 MB is reserved for the operating system and unavailable to games. Additionally, the system contains 6 MB of VRAM. The console also contains a dedicated hardware audio DSP module capable of outputting mono, stereo or pseudo-surround sound through either its two speakers or headphone jack.
The Nintendo 3DS contains two separate screens. The top screen is a 15:9 (5:3) autostereoscopic LCD screen with a display resolution of 800×240 pixels (400×240 pixels per eye, WQVGA). On the original Nintendo 3DS, the screen measures 3.53 in (90 mm), while on the 3DS XL it measures 4.88 in (124 mm). It is autostereoscopic; it uses a parallax barrier to produce a three-dimensional effect without requiring special glasses. There is a 3D Depth Slider next to the screen for adjusting the 3D effect or turning it off altogether. The bottom screen is a 4:3 resistive touchscreen with a display resolution of 320×240 pixels (QVGA). On the original Nintendo 3DS, the screen measures 77 mm (3.02 in), while on the 3DS XL it measures 106 mm (4.18 in).
The system features three camera sensors: two cameras on the outside of the device, capable of taking 3D photos and capturing 3D video; and one camera facing the user positioned above the top screen. All camera sensors have a maximum resolution of 640×480 pixels (0.3 megapixels, VGA) with one-point focus and can only achieve digital zoom. There is also a microphone in the bottom of the system.
The system includes 1 GB of internal flash memory manufactured by Toshiba, but it is mostly used by the operating system and its pre-installed applications. The system's memory can be expanded via an SD memory card slot, which supports SD and SDHC memory cards. All Nintendo 3DS systems come packaged with a 2 GB SD card while Nintendo 3DS XL systems include a 4 GB SDHC card. The system uses 2.4 GHz 802.11 b/g wireless network connectivity with enhanced WPA2 security. There is also an infrared port on the back of the console, which allows the system to connect with certain peripherals such as the Circle Pad Pro and the amiibo reader/writer.
The Nintendo 3DS comes with a 1300 mAh, 3.7 V lithium ion battery. Its longevity fluctuates between 3 and 5 hours while playing Nintendo 3DS games and between 5 and 8 hours while playing Nintendo DS games, depending on brightness, volume and wireless settings. The Nintendo 3DS XL however, comes with a 1750 mAh, 3.7 V lithium-ion battery capable of lasting between 3.5 and 6.5 hours playing 3DS games and 6 to 10 hours playing DS games. While the original 3DS weighs approximately 230 grams (8.1 oz), the larger XL version weighs approximately 336 grams (11.9 oz). When opened, the original 3DS is 134 mm (5.3 in) wide, 74 mm (2.9 in) broad, and 21 mm (0.83 in) thick. The XL version however, is 156 mm (6.1 in) wide, 93 mm (3.7 in) broad, and 22 mm (0.87 in) thick. The 3DS also come with a telescoping stylus, extendable to up to 100 mm (3.9 in) long, while the 3DS XL come with a regular 93 mm (3.7 in) stylus.
All systems in the Nintendo 3DS family use the same AC adapter used with the Nintendo DSi and Nintendo DSi XL. In order to reduce production costs, certain console bundles, such as Japanese and European releases of the Nintendo 3DS XL and the New Nintendo 3DS, are not bundled with an AC adapter, requiring players to either use one from an older system they may own or purchase one separately. Along with plugging the adapter directly into the system, the standard Nintendo 3DS comes with a charging cradle, which players place their system into to charge. Charging cradles for the Nintendo 3DS XL and New Nintendo 3DS systems are sold separately from their respective systems, and there is no cradle for the Nintendo 2DS.
Controls
[
edit
]
The Nintendo 3DS input controls include the following: a round nub analog input called the Circle Pad, a D-pad, four face buttons (A, B, X, Y), bumper buttons (L, R), a Home button, Start and Select buttons, and a Power button. It also features a dedicated volume slider and a wireless switch, which turns on or off wireless communications. The touchscreen can be interacted with either the user's finger or a stylus bundled with the handheld. There is also a six-axis motion sensor, which includes a 3-axis accelerometer and a 3-axis gyroscope. Through the Circle Pad Pro accessory the system has access to a second Circle Pad and trigger buttons (ZL, ZR).
Game card
[
edit
]
The Nintendo 3DS Game Card is a media format used to physically distribute video games for Nintendo 3DS systems. Despite looking near-identical to its predecessor, the Nintendo DS Game Card, there is a small tab jutting out on the side of the card, preventing 3DS game cards from being inserted into a Nintendo DS. These game cards can hold up to either 1 GB, 2 GB or 4 GB of game data depending on the game, which is 2, 4 and 8 times more storage, respectively, than the biggest Nintendo DS Game Card's capacity (512 MB). Some sources claim that an 8 GB version could be produced should a game ever require it.
Circle Pad Pro
[
edit
]
The Circle Pad Pro is an accessory/add-on which connects to a Nintendo 3DS system through infrared adding support for a second Circle Pad, a substitute R button input (as the original one becomes difficult to reach), and an extra set of trigger buttons (ZL/ZR). The device was first released in Japan on December 10, 2011, coinciding with the release of Monster Hunter 3G in the region. It was subsequently released in Europe on January 27, 2012, in Australia on February 2, 2012, and in North America on February 7, 2012, coinciding with the release of Resident Evil: Revelations in those regions.
Images of the device first appeared in September 2011 in Famitsu The first titles confirmed to compatible with the add-on were Monster Hunter 3G, Resident Evil Revelations, Ace Combat 3D Cross Rumble (Japanese version only), Metal Gear Solid: Snake Eater 3D, Kingdom Hearts 3D: Dream Drop Distance and Shin Sangoku Musou VS.
The Nintendo 3DS XL version of the device, called the Circle Pad Pro XL, was released in Japan on November 15, 2012, Europe on March 22, 2013, and North America on April 17, 2013.
The C-Stick and ZL/ZR buttons on the New Nintendo 3DS are backward compatible with Circle Pad Pro-compatible titles.
Other models
[
edit
]
The Nintendo 3DS family currently has five models available. Apart from the regular-sized Nintendo 3DS, the Nintendo 3DS XL is a larger model of the console which was released on July 28, 2012, and features 90% larger screens than the original Nintendo 3DS. The Nintendo 2DS is a complete redesign of the handheld which was released on October 12, 2013, and is described as an "entry level" version of the 3DS. This console, while still capable of playing Nintendo DS and 3DS games, removes the 3D functionality and changes the form factor to a fixed, "slate" design. The New Nintendo 3DS, which also has an XL variant, adds additional controls and improved functionality, and will be able to play certain games not compatible with previous models.
Nintendo 2DS
[
edit
]
The Nintendo 2DS (abbreviated to 2DS) was announced on August 28, 2013, as a new entry-level model of the Nintendo 3DS family. While its hardware and software are relatively similar to the Nintendo 3DS (and still offers compatibility with Nintendo DS and 3DS games), it lacks the 3DS's signature 3D screen, does not have internal stereo speakers (only using a mono speaker), and uses a slate-like form factor as opposed to the clamshell design used by its Nintendo DS and 3DS predecessors. The Nintendo 2DS was released in North America and Europe on October 12, 2013, coinciding with the launch of Pokémon X & Y and is being sold alongside the Nintendo 3DS and 3DS XL at a relatively lower price point.
As a cheaper model of the Nintendo 3DS family that still plays Nintendo DS and 3DS games, the Nintendo 2DS is seen as a market strategy to broaden the overall Nintendo handheld gaming market. As such, the 2DS is a handheld console targeted at a different audience than that of the regular Nintendo 3DS models, particularly younger users. Despite concerns from critics who felt that the company was trying to de-emphasize the 3D functionality by releasing the 2DS, Nintendo maintains that 3D is still part of their future plans.
New Nintendo 3DS
[
edit
]
The New Nintendo 3DS and New Nintendo 3DS XL (known as New Nintendo 3DS LL in Japan) are updated revisions of the 3DS and 3DS XL that were first unveiled during the Japanese Nintendo Direct presentation on August 29, 2014. The new models feature a more powerful processor, face tracking for improved 3D viewing angles, additional ZL/ZR shoulder buttons and a new "C-Stick" pointing stick that are comparable to and backward compatible with games that support the Circle Pad Pro, colored face buttons inspired by those of Super NES controllers, automatic brightness adjustment, microSD storage, larger batteries, and integrated near-field communications support for use with Amiibo products. The regular-sized New Nintendo 3DS also has slightly larger screens than the prior model, and a suite of interchangeable faceplates.
As with its predecessors, the New Nintendo 3DS is compatible with existing DS and 3DS titles. Some software titles, such as Xenoblade Chronicles 3D and Super Nintendo Entertainment System games released for Virtual Console, are specifically optimized for the device and its upgraded processor and are incompatible with earlier 3DS and 2DS models.
The systems were released in Japan on October 11, 2014, in Australia and New Zealand on November 21, 2014, and at retail in Europe and North America on February 13, 2015. Only the XL version was made available in North America at launch, though the smaller model was later released in a series of limited edition bundles.
New Nintendo 2DS XL
[
edit
]
On April 27, 2017, Nintendo unveiled the New Nintendo 2DS XL (known as New Nintendo 2DS LL in Japan), which was released in North America and Europe on July 28, 2017 and Japan on July 29, 2017. The system is a variation of the New Nintendo 3DS line, featuring the additional hardware features and software compatibility of the New Nintendo 3DS, albeit without the stereoscopic 3D functionality, and a newly designed foldable screen. No announcements have been made on a non-XL variant of the system.
User interface
[
edit
]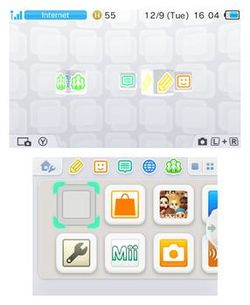 The Home Menu (stylized as HOME Menu) is a graphical user interface similar to the Nintendo DSi Menu and Wii U Menu for Nintendo 3DS systems. It is used to launch software stored on Nintendo DS and Nintendo 3DS Game Cards, applications installed on a SD card and DSiWare titles installed in the system's internal memory. Application icons are set in a customizable grid navigable on the lower screen. On the upper screen, a special 3D animated logo is displayed for each individual app, as well as system information such as wireless signal strength, date and time, and battery life. Using the Home button, users can suspend the current software that is running and bring up the Home Menu, allowing the user to launch certain multitasking applications, such as the Internet Browser and Miiverse.
Similarly to the Nintendo DSi, the menu has updateable firmware. On April 25, 2012, a system update brought the introduction of a folder system, which allows users to put applications inside folders. On June 20, 2013, a system update brought the introduction of the Save Data Backup feature, which allows the user to back up save data from downloadable Nintendo 3DS software and most Virtual Console games. An update was released on October 30, 2014 to enable players to download custom themes for the Home Menu, based on various Nintendo titles.
Nintendo 3DS Camera is a built-in photo and video recorder with an integrated media gallery and photo editing functionality. The app uses the system's two front-facing cameras to take 3D photos, and the user-facing camera to take regular 2D photos. All photographs are taken at a resolution of 640 x 480 px (VGA), or 0.3 megapixels. There are various options and filters available when taking photos or recording video. There is also a Low-Light option, which is useful when taking photos and recording video in low lighting conditions.
On December 7, 2011, a system update added the ability to record 3D video along special recording options, such as the ability to make stop motion animations. All recording modes only allow a single video to be up to 10 minutes long.
Nintendo 3DS Sound is a built-in music player and sound recorder. Supported filename extensions include MP3 audio with .mp3 and AAC audio with .mp4, .m4a, or .3GP. Audio files can be played from an SD card, with visualizations displayed on the upper screen. Music can be played while the console is closed, using the system's headphone jack. A set of sound manipulation options are available, as well as several audio filters. Ten-second voice recordings can be also be recorded and edited. These can then be shared throughout other applications such as Swapnote. There is also a StreetPass function built-into the app, where users exchange song data to make a compatibility chart between them.
Multitasking
[
edit
]
The Nintendo 3DS is capable of suspending an application and run one of six multitasking applications. Once a game or application is running, the user can press the Home button to suspend it and temporarily open the Home Menu. It is then possible to open another specially designed multitasking application built into the system without closing the currently suspended software. Attempting to open a game or application while another is already running will result in a warning prompt. These multitasking applications include:
Game Notes, which allows users to write and save notes, with screenshots from both screens of the current suspended software present to aid the user.
Friend List, a list of registered friends, with information such as their current status as well as current/favorite application; up to 100 friends can be registered by exchanging friend codes or using the Local option.
Notifications, whilst receiving notifications the top LED light will flash either blue or green, depending if it is a SpotPass or StreetPass notification, respectively.
Miiverse, a social networking service dedicated to games and other applications; comments and software screenshots can be posted on dedicated software communities.
Camera, a lightweight version of Nintendo 3DS Camera with most features omitted, accessed by holding the L and R buttons; QR codes can be read by the camera.