Nintendo Switch
Introduction
[
edit
]
The Nintendo Switch, commonly abbreviated as the Switch, is a video game console developed by Nintendo and was released on March 3, 2017. It is a hybrid console that can be used in both stationary and portable settings. In the home console mode, the main unit is inserted onto a docking station to connect to a television screen or monitor. Alternatively, for portable use, it can be removed from the dock and operated similarly to a tablet computer through its LCD touchscreen. It can also be placed in a standalone tabletop mode visible to several players. Its wireless Joy-Con controllers, which include standard buttons and directional analog sticks for user input, motion sensing, and high-definition tactile feedback, can attach to both sides of the console to support handheld-style play. They can also connect to a Grip accessory to provide a traditional home console gamepad form, or be used individually in the hand like the Wii Remote and Nunchuk, supporting local multiplayer modes. The Nintendo Switch's software supports online gaming through standard Internet connectivity, as well as local wireless ad hoc connectivity with other Switch consoles. Nintendo Switch games and software are available on both physical flash-based ROM cartridges and digital distribution via Nintendo eShop; the system does not use region locking. The Nintendo Switch competes on the console gaming market with contemporaries being Microsoft's Xbox One and Sony's PlayStation 4.
Known in development by its codename NX, the concept of the Switch came about as Nintendo's reaction to several quarters of financial losses into 2014, attributed to poor sales of its previous console, the Wii U, and market competition from mobile gaming. Nintendo's then-president Satoru Iwata pushed the company towards mobile gaming and novel hardware. The Nintendo Switch's design is aimed at a wide demographic of video game players through the multiple modes of use. Nintendo opted to use more standard electronic components, such as a chipset based on Nvidia's Tegra line, to make development for the console easier for programmers and more compatible with existing game engines. As the Wii U had struggled to gain external support, leaving it with a weak software library, Nintendo preemptively sought the support of many third-party developers and publishers to help build out the Switch's game library alongside Nintendo's own first-party titles, including many independent video game studios. While Nintendo initially anticipated around 100 titles for its first year, over 320 titles from first-party, third-party, and independent developers were released by the end of 2017.
The Nintendo Switch was unveiled in October 2016 and was released in most areas worldwide on March 3, 2017. the Nintendo Switch has not yet been released in India, China, and other regions. The console shipped nearly three million in the first month of its launch, exceeding Nintendo's initial projection of two million, and within a year of release achieved over 14 million units sold worldwide, outselling total lifetime sales of the Wii U. As of 2018 September, it has sold 22.86 million units. It is the fastest-selling console of all time in Japan as of December 24, 2017 and in the United States as of January 4, 2018. Nintendo Switch sales were heavily tied to the critically acclaimed titles The Legend of Zelda: Breath of the Wild, Mario Kart 8 Deluxe, and Super Mario Odyssey, which became best-sellers for the system, with over ten, eleven, and twelve million copies sold respectively by September 2018.
Specifications
[
edit
]
Hardware
[
edit
]
The Nintendo Switch is a hybrid video game console, with the main system comprising the "Switch Console", the "Switch Dock", and the "Joy-Con" controllers. Although it is a hybrid console, Fils-Aimé stated that the Switch is "a home console that you can take with you on the go". Fils-Aimé said that the Switch and their primary handheld console, the Nintendo 3DS, are meant to co-exist, with Kimishima considering the 3DS an entry-level product for younger players. The company had planned to diminish production of the Wii U in anticipation of the Switch's release, and formally announced the end of its production on January 31, 2017.
Console and Dock
[
edit
]
The main unit of the Switch is the Console, a battery-powered tablet-like monitor that comprises an LCD screen measuring 6.2 inches (160 mm) on its diagonal, the same as the Wii U GamePad. The unit itself measures 203.1 by 102 by 13.9 millimetres (8.00 in × 4.02 in × 0.55 in) and weighs 297 grams (10.5 oz). The screen supports ten-point multi-touch capacitive sensing and includes haptic technology from Immersion Corporation. The LCD screen supports resolutions up to 720p (1280×720 px). The Console includes a 3.5 mm audio jack, stereo speakers on the bottom face of the unit below the screen, a USB-C port for charging, and a kickstand on the back side. The unit also includes slots for a game card (cartridge-based media) and a microSD card slot located under the kickstand. The Switch Console itself includes three buttons, all on the top of the device, Volume +/- and Power. The Console has rails on the side, into which the Joy-Con controllers can be slid into to attach them to the Switch unit. An ambient light sensor on the front of the Console adjusts the screen's brightness automatically. The Console's model number is "HAC-001".
The Console, with or without Joy-Con attached, can be placed into the Switch Dock, a docking station with electrical connectors to connect the Console to a power supply to charge its battery, and to a television via an HDMI connection for video/audio output. The Dock also includes two USB 2.0 ports and one USB 3.0 port. While docked, the unit can support resolutions up to 1080p and a maximum frame rate of 60 frames per second, though the maximum resolution varies depending on the game. As an example, The Legend of Zelda: Breath of the Wild runs at a maximum 900p and 30 frames per second while the Switch is docked. The Dock measures 173 by 104 by 54 millimetres (6.8 in × 4.1 in × 2.1 in) and weighs 327 grams (11.5 oz).
There are three gameplay modes that can be used with the Switch; "TV Mode" with the Console slid into the Dock to support play on a television, "Tabletop Mode" with the Console placed on a table or other flat surface using its kickstand for shared gaming away from a dedicated screen, or in "Handheld Mode" as a standard portable tablet device. Users can switch between these modes simply by placing the Console in the Dock or removing it, extending or retracting the kickstand, and detaching or connecting the Joy-Con. Games may be designed to play only in specific modes; for example, Voez initially could not be played in TV Mode and relied on touchscreen controls. Support for controllers and TV Mode was later added to Voez in January 2018 via an update for the game. Another example is Super Mario Party, which does not support Handheld Mode.
Nintendo stated that the Switch is a "single-screen experience", in that the player either sees the content on the Console when it is out of the Dock, or on the screen attached to the Dock when the Console is docked. The Switch cannot feature dual-screen functionality that was offered through the Wii U via its GamePad.
Nintendo patented a means of using multiple Switch consoles to create a multi-monitor configuration, by arranging them on a flat surface and spanning a single gameplay environment across their screens. This technology was first seen in Super Mario Party.
Joy-Con
[
edit
]
The Nintendo Switch comes with controllers collectively called Joy-Con, individually called the "Joy-Con L" and "Joy-Con R". The controllers are attached to the Switch Console via side rails using a locking mechanism, with a small release button on their rear face to allow them to be detached. When detached, they can be used as a pair by a single player, attached to a grip that emulates a gamepad form factor, or used as separate controllers by two individual players. A single Switch console can support up to eight Joy-Con connections. Straps can be attached to the sides of Joy-Con when they are detached.
Each Joy-Con includes four front-facing action buttons (Joy-Con R featuring Nintendo's signature ABXY buttons, and Joy-Con L featuring directional buttons), an analog stick which can be pressed down as a fifth button, a plus (+) or minus (-) button, a shoulder button (L/R), a trigger button (ZL/ZR), and a system function button (Joy-Con R houses the Home button and Joy-Con L the Screenshot button). Within the rail are two additional buttons (SL and SR buttons) which can act like left-and-right shoulder buttons when the Joy-Con is held horizontally. Each Joy-Con contains an accelerometer and gyroscope for motion control support, while Joy-Con R also contains an infrared depth sensor that can be used to identify objects and motion gestures. Both Joy-Con contain a haptic feedback system known as "HD Rumble", which can generate fine tactile feedback. Joy-Con R contains an NFC reader, allowing functionality with Nintendo's Amiibo line. Each Joy-Con measures 35.9 by 102 by 13.9 millimetres (1.41 in × 4.02 in × 0.55 in) and weighs 49 grams (1.7 oz) for Joy-Con L and 52.1 grams (1.84 oz) for Joy-Con R. When measured from the top of the analog stick to the tip of the ZL/ZR trigger it has an extreme depth of 28.4 millimetres (1.12 in).
Joy-Con can be obtained in several colors as part of the Switch bundle or through added purchases. In addition to the slate gray that the rest of the unit offers, consumers can opt to get Joy-Con in neon red and blue colors. In Early to Mid-2017, Nintendo introduced neon yellow Joy-Con, which launched alongside Arms on June 16, 2017, as well as neon green, and neon pink Joy-Con, which launched alongside Splatoon 2 on July 21, 2017 in Japan and Europe and on September 8, 2017 in North America. Joy-Con based on Eevee and Pikachu's color scheme were released alongside Pokémon: Let's Go, Pikachu! and Let's Go, Eevee! on November 16, 2018, as part of the Pokémon: Let's Go, Pikachu! and Let's Go, Eevee! Switch bundles.
Technical specifications
[
edit
]
The Switch uses a system-on-chip from the Tegra family of products, developed in partnership with Nvidia. No specific details were revealed beyond that it is a "custom" Tegra chip "based on the same architecture as the world's top-performing GeForce gaming graphics cards" that are common in personal computers, and has a custom API known as "NVN", which is designed to "bring lightweight, fast gaming to the masses". Takeda described the Nvidia chipset as being critical for delivering gamers a level of performance similar to that which they experience on personal computers, helping to achieve "high performance but low power consumption" for the Switch. Pre-release reports, unconfirmed by either Nintendo or Nvidia, stated that the SoC would be an Nvidia Tegra X1 SoC with 4 ARM Cortex-A57 CPU cores and 4 ARM Cortex-A53 CPU cores along with 256 Maxwell based CUDA GPU cores. This was later corroborated by an analysis on the console done by Tech Insights in March 2017. The CPU cores are clocked at 1.020 GHz, as revealed by DigitalFoundry. The GPU cores vary between 768 MHz and 307.2 MHz depending upon whether the device is docked; however, they can be boosted to 921 MHz and 384 MHz, respectively. A later iFixIt teardown of the final product confirmed 4GB of LPDDR4.
The Switch offers dual-band 802.11ac wireless connectivity and is compliant with 802.11 a/b/g/n/ac modes. Up to eight Switch consoles can be connected in a wireless ad hoc network for local multiplayer games, and multiple players can play on each of the connected Switch consoles. In the case of at least one game, Splatoon 2, ten Switch consoles can connect in the ad hoc network, though only eight can play directly while the other two can watch as spectators. The Switch uses Bluetooth 4.1 for wireless communication between the console and its controllers. Users can purchase a third-party USB LAN adapter for wired connectivity when the Console is docked for TV mode. Nintendo's Wii LAN adapter accessory is also compatible with the Switch via USB ports on the Switch dock.
The Switch is primarily powered in portable mode by a non-removable 4310 mAh, 3.7 V Lithium-ion rechargeable battery. The battery life is estimated to be between 2.5 and 6.5 hours, depending on the software being used. Nintendo gives the example of The Legend of Zelda: Breath of the Wild supporting approximately three hours of battery life. The battery can be charged either while in the Dock, or through a standard USB-C connector on the Console. The estimated recharge time while the unit is in sleep mode is about 3 hours. Nintendo offers the means for replacing batteries through its customer support. Each Joy-Con has its own non-removable 525 mAh, 3.7 V Lithium-ion battery separate from the Console, with an estimated twenty-hour lifespan. These batteries are automatically charged if they are attached to the Console while it is charging itself. Additional accessories have other means to charge the Joy-Con. While the basic Joy-Con Grip that ships with the Switch does not offer charging capabilities, a separate premium Joy-Con Grip includes a USB-C connector port that can be used to charge the Joy-Con batteries while they are connected to this Grip.
The Switch includes 32 GB of internal storage, which can be expanded up to 2 TB using a microSD, a microSDHC or a microSDXC card. A microSD card slot is located under the Switch's kickstand, where a microSD card can be inserted. If the microSD card is used, the Switch will only store game save data on the internal memory, leaving data that can be re-acquired on the microSD card. Save data will always be stored on the console, regardless if the source is a physical Game Card or a digital download copy. At launch, there was no way to transfer save files from the internal memory to the microSD card or another Switch console, though save game and profile transfers between Switch consoles were added in the 4.0.0 system update in October 2017. While microSD and microSDHC support was available at launch, microSDXC card support was later added to the Switch's software via a system update. SD cards and miniSD cards are not compatible with the Switch due to the size of the microSD card slot. The Switch does not support external storage units at launch, but Nintendo stated that they were looking into adding this feature in the future.
The Switch console contains a 3.5 mm headphone jack. The unit does not directly support Bluetooth wireless headphones, though they can be connected with third-party wireless adapters via the headphone jack. A system update in October 2017 enabled support for wireless USB headphones when the receiver is connected to the USB port on the console when it's docked.
Other controllers and accessories
[
edit
]
Though not revealed in the October 2016 reveal, the Nintendo Switch supports a wide array of additional accessories, according to Kimishima. Kimishima suggested that the Switch is part of a large ecosystem of devices, though the Switch unit remains the core console element. Takahashi suggested the possibility of other units besides the Joy-Con that could attach and/or connect to the Console to serve as alternate input devices and change how the Switch can be used.
A charging grip is available for the Joy-Con, which provides a means to attach a USB-C cable for power. Alongside that, Nintendo released a charging strap that allows players to charge an individual Joy-Con via embedded AA batteries on June 16, 2017. Nintendo offers a Joy-Con Wheel, a small steering wheel-like unit that a Joy-Con can slot into, allowing it to be used for racing games such as Mario Kart 8 Deluxe. The Switch supports a wireless Pro Controller, which has a more traditional design reminiscent of the Wii Classic Controller Pro and Wii U Pro Controller. A setting can be turned on to use the controller in wired USB mode; however, this will disable the NFC reader on the controller. Standalone Docks are available, which include a power adapter and HDMI cable. Third parties also support the Switch with additional accessories, such as carrying cases and screen protectors. The 4.0.0 system update enabled support for GameCube controllers attached via USB with the GameCube adapter that was available for the Wii U as well as the upcoming adapter for the Switch, allowing the user to play games with a GameCube controller with most games compatible with the Switch's Pro controller such as Super Smash Bros. Ultimate.
In January 2018, Nintendo announced Nintendo Labo, a child-oriented platform that combines games coupled with do-it-yourself cardboard projects that attach or wrap around the Switch Console and Joy-Con, effectively creating toys around the Switch to interact with games. These cardboard units, which may also include string, rubber bands, and other pieces, are referred to as Toy-Con. The game software provides instructions for the Toy-Con construction and provides the interface to control the Toy-Con. Such examples given include a remote-controlled "car", where the two Joy-Con attach to the car and their vibration feedback provide the motion for the car, controlled from the Switch, a fishing rod where the Joy-Con are part of the reel and handle of the rod and their motion controls used to simulate the act of fishing in the mini-game, and a small toy piano.
Amid complaints about the Switch's kickstand, Nintendo released an Adjustable Charging Stand for the Switch on July 13, 2018 after it was announced on May 9, 2018, which allows users to place the Console onto the stand as to play in Tabletop mode, providing better support than the Console's own built-in kickstand, and allowing the user to optionally charge the console.
Tatsumi Kimishima stated that Nintendo was investigating the possibility of offering a virtual reality headset for Switch in the future, "if we are able to resolve the issues with playing comfortably for long hours." Nintendo did submit design patent applications for a virtual reality accessory similar in design to those intended for smartphones, in which the device would be inserted into an enclosure, and its screen viewed through lenses to achieve a stereoscopic effect.
A PC-specific USB keyboard is compatible with the Nintendo Switch in docked mode.
Software
[
edit
]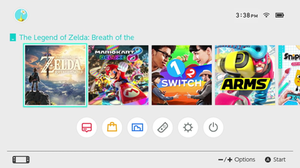 The Switch's user interface features tile-based access to games that are either present in the game card slot or stored within the unit's storage devices. It includes quick access buttons for a News feed from Nintendo, eShop access, and a photo album for screenshots captured during gameplay; the 4.0 update to the software in October 2017 also enabled capturing and sharing video from select games. A single Switch console supports up to eight user profiles, which each can be tied to a Nintendo Account user ID. Profiles can be represented by either a pre-made avatar from an internal gallery, or using a Mii. The Mii creator was upgraded with increased color options for aspects such as hair styles; however, it is integrated into the system settings, rather than being an independent application.
Prior to the 4.0 update, players discovered that the Switch's firmware included an easter egg to allow players to play the NES Golf title via a built-in emulator. While Nintendo has not confirmed its presence, journalists and players believe this is a tribute to Nintendo's former president Satoru Iwata; Golf was programmed by Iwata, and the game can only be accessed if the system clock is set to July 11 – the day that Iwata died – and the Joy-Con are moved similarly to how Iwata would move his hands in his Nintendo Direct presentations. Some Japanese users referred to this as a omamori (charm) left by Iwata himself. With the 4.0 update, the executable code for this Easter egg appears to have been wiped by Nintendo.
In August 2018, a Twitter user found files on the Switch's firmware while reverse-engineering the console, which suggest that Nintendo was possibly testing VR functionality for the Switch. The Twitter user was able to activate the hidden "VR Mode", which split the screen into two displays. Hackers found that the code related to possible VR functionality had been hidden in the Switch for over a year.
Security
[
edit
]
Nintendo continued its white hat security program that it had with the Nintendo 3DS. With help of third-party website HackerOne, Nintendo will award up to $20,000 to the first user to identify any vulnerability that impacts piracy, cheating, or potential sending of inappropriate content to younger users, the amount based on the severity of the security flaw.
In April 2018, two separate groups discovered a means to use an exploit chain in the Tegra chip system that can be used to boot other software on the Switch, which could have both beneficial or malicious uses. The exploit is unpatchable as the necessary support to update the Tegra's ROM was not included on the Switch systems as shipped. Both groups had notified Nvidia and Nintendo of the exploit before public announcement of their findings. Users studying the hardware determined that Nintendo has the capacity to permanently ban specific Switch consoles used to obtain software via this exploit from the Nintendo Network, as the Switch console includes a unique device identification code used as part of the validation to the Network. As games downloaded from the Nintendo Network include encrypted information that ties the Nintendo ID to the console, which is transmitted to Nintendo when users start playing games, Nintendo can track unapproved software downloads and take action. Nintendo has reportedly fixed the vulnerability in newer Switch units as of July 2018.
In June 2018, two hackers found a way to be able to run the Switch system's developer software Devmenu on non-developer Switch units, allowing hackers to be able to directly load games onto SD cards or create custom avatars for their user profile, including pornographic and NSFW pictures, which violate Nintendo's terms of service. A Nintendo spokesperson responded to Kotaku 's article on the topic, saying that "Modified Nintendo Switch systems have been banned".
Shortly after the release of Nintendo Switch Online in September 2018, hackers and modders were able to figure out how to run unauthorized ROMs on the Nintendo Switch NES emulator. A Switch hacker who goes by the name DevRin, was the first to discover the hack and posted his findings on YouTube, which prompted a modder who goes by the name KapuccinoHeck to investigate the matter with two others and their findings were later posted on KapuccinoHeck's Twitter account.
Online services and functionalities
[
edit
]
Nintendo Switch user profiles can be linked to a Nintendo Account, which enables access to online features and the ability to download and purchase software from Nintendo eShop. A Nintendo Account can be created with an account from a third-party social networking service or an existing Nintendo Network ID from a 3DS or Wii U. Nintendo does not plan to offer first-party social networking services on Switch, such as Miiverse or StreetPass, the latter owing to Nintendo's promotion of Switch as primarily being a home console. Instead, profiles can be linked to existing social networks such as Facebook and Twitter for social and sharing features.
Players can register friends through Friend Codes as with previous Nintendo systems, searching for friends in the local network, through past multiplayer interactions, or through Nintendo Account profiles registered as friends on Nintendo mobile apps such as Miitomo and Super Mario Run. Nintendo said in March 2017 that they have plans to provide other methods for registering friends, including through third-party social media and via Nintendo Network IDs. Support for registering friends on the Switch via Facebook and Twitter was added on March 13, 2018 as part of the 5.0.0 system update. The Switch has no native support for Nintendo Network IDs, but users can link their Nintendo Network ID credentials to a Nintendo Account profile, which enables the ability to add friends that they had already registered on their 3DS or Wii U, and share an eShop balance between all three platforms.
In line with Microsoft and Sony consoles, a subscription is required to access online multiplayer on most games. The Nintendo Switch Online subscription includes access to online play, voice chat, access to an ongoing library of Nintendo Entertainment System (NES) games, cloud storage for save data on most games, as well as other special offers and promotions. Free-to-play games such as Fortnite Battle Royale and Warframe are exempt from the subscription requirement for online play.
The Nintendo Switch Online mobile app allows access to voice chat for Switch Online subscribers, as well as access to game-specific microsites. Unlike its competitors, voice chat is not supported via the console itself, requiring use of the app on a smartphone instead. A separate app provides access to parental controls for the console.
Media support
[
edit
]
The Switch did not initially launch with many multimedia-oriented features, such as a web browser or support for video streaming services. Fils-Aimé said that because the Switch is geared as a gaming console that is far different from what their competitors offer, they had focused on achieving that goal first and foremost, and did not see media support as a differentiator from their competitors. Nintendo did not rule out providing a full web browser or apps for services in the future, and Fils-Aimé said that they are in discussions with providers like Netflix, Hulu, and Amazon for such support.
Niconico, a popular Japanese video service, launched for the Switch in Japan on July 13, 2017, and was the Switch's first third-party media app in any market. Hulu was the first video streaming application released for the Switch in the United States on November 9, 2017. A YouTube application was released on November 8, 2018. As of January 2018, Netflix had stated it was looking into a Switch app for the service, but had no definitive plans yet. Fils-Aimé said in June 2018 that conversations to bring Netflix to the Switch are "on-going".
Korg Gadget, a music production app, was released for the Nintendo Switch on April 26, 2018. InkyPen, a comics and manga subscription app, launched exclusively on the Nintendo Switch worldwide on December 17, 2018. FUZE4, a text-based programming language app, will be released on April 1, 2019.
Despite the lack of an end-user web browser, a NetFront-based infrastructure is integrated into the Switch's UI, which allows the system menu to support several browser-like functions, such as authenticating for Wi-Fi hotspots. This lightweight browser was found to use a six-month-old version of WebKit containing a set of vulnerabilities collectively known as Trident that has the potential to allow the Switch to be hijacked by code execution in the browser.