PlayStation 3
PlayStation 3




*

Top:

Original PlayStation 3 (2006)

Center: PlayStation 3 Slim (2009)
Bottom: PlayStation 3 Super Slim (2012)

Also known as

PS3
Developer
Sony Computer Entertainment
Manufacturer
Sony, Foxconn, Asus
Product family
PlayStation
Type
Home video game console
Generation
Seventh generation
Release date
JP: November 11, 2006
NA: November 17, 2006
PAL: March 23, 2007
Retail availability
2006–2017
Discontinued
NZ: September 29, 2015
EU: March 2016
AUS: March 2016
NA: October 2016
JP: May 29, 2017
Units shipped
80 million
(as of 2013-11-2)
Media
Operating system
PlayStation 3 system software
CPU
3.2 GHz Cell Broadband Engine with 1 PPE and 8 SPEs
Memory
256 MB XDR DRAM system and 256 MB GDDR3 video
Storage
2.5-inch SATA hard drive (12 GB (super-slim only), 20 GB, 40 GB, 60 GB, 80 GB, 120 GB, 160 GB, 250 GB, 320 GB or 500 GB included)
Display

Video output formats

Graphics
550 MHz Nvidia/SCEI RSX Reality Synthesizer
Sound

Audio output formats
A/V-Multi

TOSLINK

HDMI

*All models can decode Dolby TrueHD and as of firmware 2.30 DTS-HD Master Audio, to be output as LPCM. Output of the raw undecoded stream is limited to slim models.
Controller input
Sixaxis, DualShock 3, DualShock 4, Logitech Driving Force GT, Logitech Cordless Precision controller, standard USB controllers, GT Force, rhythm game controllers, PlayStation Move, PlayStation 3 Blu-ray Remote Control, GunCon 3, PlayStation Portable, Wonderbook, PlayStation Vita, keyboard and mouse
Connectivity

(details)
Flash memory input*

Audio/video output

Other

---

60 GB and CECHExx 80 GB models

Online services
PlayStation Network
Backward
compatibility
Predecessor
PlayStation 2
Successor
PlayStation 4
Website
https://playstation.com/ps3
Introduction
[
edit
]
The PlayStation 3 (PS3) is a home video game console developed by Sony Computer Entertainment. It is the successor to PlayStation 2, and is part of the PlayStation brand of consoles. It was first released on November 11, 2006, in Japan, November 17, 2006, in North America, and March 23, 2007, in Europe and Australia. The PlayStation 3 competed mainly against consoles such as Microsoft's Xbox 360 and Nintendo's Wii as part of the seventh generation of video game consoles.
The console was first officially announced at E3 2005, and was released at the end of 2006. It was the first console to use Blu-ray Disc as its primary storage medium. The console was the first PlayStation to integrate social gaming services, including being the first to introduce Sony's social gaming service, PlayStation Network, and its remote connectivity with PlayStation Portable and PlayStation Vita, being able to remote control the console from the devices. In September 2009, the Slim model of the PlayStation 3 was released. It no longer provided the hardware ability to run PS2 games. It was lighter and thinner than the original version, and featured a redesigned logo and marketing design, as well as a minor start-up change in software. A Super Slim variation was then released in late 2012, further refining and redesigning the console.
During its early years, the system had a critically negative reception, due to its high price ($599 for a 60 gigabyte model, and $499 for a 20 GB model), a complex processor architecture and a lack of quality games, but was praised for its Blu-ray capabilities and "untapped potential". The reception would get more positive over time. The system had a slow start in the market but managed to recover, particularly after the introduction of the Slim model. Its successor, the PlayStation 4, was released later in November 2013. On September 29, 2015, Sony confirmed that sales of the PlayStation 3 were to be discontinued in New Zealand, but the system remained in production in other markets. Shipments of new units to Europe and Australia ended in March 2016, followed by North America which ended in October 2016. Heading into 2017, Japan was the last territory where new units were still being produced until May 29, 2017, when Sony confirmed the PlayStation 3 was discontinued in Japan.
Specifications
[
edit
]
Hardware
[
edit
]
PlayStation 3 is convex on its left side, with the PlayStation logo upright, when vertical (the top side is convex when horizontal) and has a glossy black finish. PlayStation designer Teiyu Goto stated that the Spider-Man-font-inspired logo "was one of the first elements SCEI president Ken Kutaragi decided on and the logo may have been the motivating force behind the shape of PS3".
On March 22, 2007, SCE and Stanford University released the [email protected] software for PlayStation 3. This program allows PS3 owners to lend the computing power of their consoles to help study the process of protein folding for disease research.
Use in supercomputing
[
edit
]
PS3's hardware has also been used to build supercomputers for high-performance computing. Fixstars Solutions sells a version of Yellow Dog Linux for PlayStation 3 (originally sold by Terra Soft Solutions). RapidMind produced a stream programming package for PS3, but were acquired by Intel in 2009. Also, on January 3, 2007, Dr. Frank Mueller, Associate Professor of Computer science at NCSU, clustered 8 PS3s. Mueller commented that the 256 MB of system RAM is a limitation for this particular application and is considering attempting to retrofit more RAM. Software includes: Fedora Core 5 Linux ppc64, MPICH2, OpenMP v 2.5, GNU Compiler Collection and CellSDK 1.1. As a more cost-effective alternative to conventional supercomputers, the U.S. military has purchased clusters of PS3 units for research purposes. Retail PS3 Slim units cannot be used for supercomputing, because PS3 Slim lacks the ability to boot into a third-party OS.
In December 2008, a group of hackers used a cluster of 200 PlayStation 3 computers to crack SSL authentication.
In November 2010 the Air Force Research Laboratory (AFRL) created a powerful supercomputer by connecting together 1,760 Sony PS3s which include 168 separate graphical processing units and 84 coordinating servers in a parallel array capable of performing 500 trillion floating-point operations per second (500 TFLOPS). As built the Condor Cluster was the 33rd largest supercomputer in the world and would be used to analyze high definition satellite imagery.
Technical specifications
[
edit
]
PlayStation 3 features a slot-loading 2x speed Blu-ray Disc drive for games, Blu-ray movies, DVDs, CDs and other optical media. It was originally available with hard drives of 20 and 60 GB (20 GB model was not available in PAL regions) but various sizes up to 500 GB have been made available since then (see: model comparison). All PS3 models have user-upgradeable 2.5" SATA hard drives.
PlayStation 3 uses the Cell microprocessor, designed by Sony, Toshiba and IBM, as its CPU, which is made up of one 3.2 GHz PowerPC-based "Power Processing Element" (PPE) and eight Synergistic Processing Elements (SPEs). The eighth SPE is disabled to improve chip yields. Only six of the seven SPEs are accessible to developers as the seventh SPE is reserved by the console's operating system. Graphics processing is handled by the Nvidia RSX 'Reality Synthesizer', which can produce resolutions from 480i/576i SD up to 1080p HD. PlayStation 3 has 256 MB of XDR DRAM main memory and 256 MB of GDDR3 video memory for the RSX.
The system has Bluetooth 2.0 (with support for up to seven Bluetooth devices), Gigabit Ethernet, USB 2.0 and HDMI 1.4 built in on all currently shipping models. Wi-Fi networking is also built-in on all but the 20 GB models, while a flash card reader (compatible with Memory Stick, SD/MMC and CompactFlash/Microdrive media) is built-in on 60 GB and CECHExx 80 GB models.
PlayStation 3 has been produced in various models: the original, the Slim, and the Super Slim. Successive models have added or removed various features.
Controllers and accessories
[
edit
]
Numerous accessories for the console have been developed. These accessories include the wireless Sixaxis and DualShock 3 controllers, the Logitech Driving Force GT, the Logitech Cordless Precision Controller, the BD Remote, the PlayStation Eye camera, and the PlayTV DVB-T tuner/digital video recorder accessory.
At Sony's E3 press conference in 2006, the then standard wireless Sixaxis controller was announced. The controller was based on the same basic design as the PlayStation 2's DualShock 2 controller but was wireless, lacked vibration capabilities, had a built-in accelerometer (that could detect motion in three directional and three rotational axes; six in total, hence the name Sixaxis) and had a few cosmetic tweaks.
At its press conference at the 2007 Tokyo Game Show, Sony announced DualShock 3 (trademarked DUALSHOCK 3), a PlayStation 3 controller with the same function and design as Sixaxis, but with vibration capability included. Hands-on accounts describe the controller as being noticeably heavier than the standard Sixaxis controller and capable of vibration forces comparable to DualShock 2. It was released in Japan on November 11, 2007; in North America on April 5, 2008; in Australia on April 24, 2008; in New Zealand on May 9, 2008; in mainland Europe on July 2, 2008, and in the United Kingdom and Ireland on July 4, 2008.
During E3 2009, Sony unveiled plans to release a motion controller later to be named PlayStation Move at GDC 2010. It was released on September 15, 2010, in Europe; September 19, 2010, in North America and October 21, 2010, in Japan.
On October 13, 2010, Sony announced an official surround sound system for PS3 through the official PlayStation YouTube channel.
The PlayStation 3 can also use DualShock 4 controller initially via USB cable, but Firmware update 4.60 enabled wireless connection.
Statistics regarding reliability
[
edit
]
According to Ars Technica, the number of PlayStation 3 consoles that have experienced failure is well within the normal failure rates in the consumer electronics industry; a 2009 study by SquareTrade, a warranty provider, found a two-year failure rate of 10% for PlayStation 3s.
In September 2009, BBC's Watchdog television program aired a report investigating the issue, calling it the "yellow light of death" (YLOD). Among the consoles that experienced the failure, they found that it usually occurred 18–24 months after purchase, while the standard Sony warranty covers one year after purchase. After this time period, PlayStation 3 owners can pay Sony a fixed fee for a refurbished console.
Sony claimed that, according to its statistics of returned consoles, approximately 0.5% of consoles were reported as showing the YLOD. In response to the televised report, Sony issued a document criticizing the program's accuracy and conclusions; specifically that the faults were evidence of a manufacturing defect. The document also complained that the report had been inappropriate in tone and might damage Sony's brand name.
Software
[
edit
]
System software
[
edit
]
Sony has included the ability for the operating system, referred to as System Software, to be updated. The updates can be acquired in several ways:
If PlayStation 3 has an active Internet connection, updates may be downloaded directly from the PlayStation Network to PlayStation 3 and subsequently installed. Systems with active Internet will automatically check online for software updates each time the console is started.
Using an external PC, a user may download the update from the official PlayStation website, transfer it to portable storage media and install it on the system.
Some game discs come with system software updates on the disc. This may be due to the game requiring the update in order to run. If so, the software may be installed from the disc.
The original PlayStation 3 also included the ability to install other operating systems, such as Linux. This was not included in the newer slim models and was removed from all older PlayStation 3 consoles with the release of firmware update 3.21 in April 2010. The functionality is now only available to users of original consoles who choose not to update their system software beyond version 3.15 or who have installed third-party, modified and unofficial versions of the firmware instead.
Graphical user interface
[
edit
]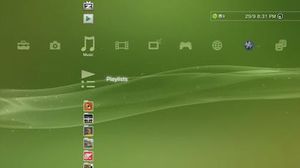 The standard PlayStation 3 version of the XrossMediaBar (pronounced Cross Media Bar, or abbreviated XMB) includes nine categories of options. These are: Users, Settings, Photo, Music, Video, TV/Video Services, Game, Network, PlayStation Network and Friends (similar to the PlayStation Portable media bar). TheTV/Video Services category is for services like Netflix and/or if PlayTV or torne is installed; the first category in this section is "My Channels", which lets users download various streaming services, including Sony's own streaming services Crackle and PlayStation Vue. By default, the What's New section of PlayStation Network is displayed when the system starts up. PS3 includes the ability to store various master and secondary user profiles, manage and explore photos with or without a musical slide show, play music and copy audio CD tracks to an attached data storage device, play movies and video files from the hard disk drive, an optical disc (Blu-ray Disc or DVD-Video) or an optional USB mass storage or Flash card, compatibility for a USB keyboard and mouse and a web browser supporting compatible-file download function. Additionally, UPnP media will appear in the respective audio/video/photo categories if a compatible media server or DLNA server is detected on the local network. The Friends menu allows mail with emoticon and attached picture features and video chat which requires an optional PlayStation Eye or EyeToy webcam. The Network menu allows online shopping through the PlayStation Store and connectivity to PlayStation Portable via Remote Play.
Digital rights management
[
edit
]
PlayStation 3 console protects certain types of data and uses digital rights management to limit the data's use. Purchased games and content from the PlayStation Network store are governed by PlayStation's Network Digital Rights Management (NDRM). The NDRM allows users to access the data from up to 2 different PlayStation 3's that have been activated using a user's PlayStation Network ID. PlayStation 3 also limits the transfer of copy protected videos downloaded from its store to other machines and states that copy protected video "may not restore correctly" following certain actions after making a backup such as downloading a new copy protected movie.
Photo management
[
edit
]
Photo Gallery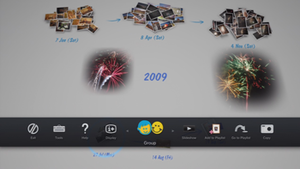 Photo Gallery is an optional application to view, create and group photos from PS3, which is installed separately from the system software at 105 MB. It was introduced in system software version 2.60 and provides a range of tools for sorting through and displaying the system's pictures. The key feature of this application is that it can organize photos into groups according to various criteria. Notable categorizations are colors, ages, or facial expressions of the people in the photos. Slideshows can be viewed with the application, along with music and playlists. The software was updated with the release of system software version 3.40 allowing users to upload and browse photos on Facebook and Picasa.
PlayMemories Studio
PlayMemories is an optional stereoscopic 3D (and also standard) photo viewing application, which is installed from the PlayStation Store at 956 MB. The application is dedicated specifically to 3D photos and features the ability to zoom into 3D environments and change the angle and perspective of panoramas. It requires system software 3.40 or higher; 3D photos; a 3D HDTV, and an HDMI cable for the 3D images to be viewed properly.
Video services
[
edit
]
Video editor and uploader
A new application was released as part of system software version 3.40 which allows users to edit videos on PlayStation 3 and upload them to the Internet. The software features basic video editing tools including the ability to cut videos and add music and captions. Videos can then be rendered and uploaded to video sharing websites such as Facebook and YouTube.
Video on demand
In addition to the video service provided by the Sony Entertainment Network, the PlayStation 3 console has access to a variety of third party video services, dependent on region:
Since June 2009, VidZone has offered a free music video streaming service in Europe, Australia and New Zealand. In October 2009, Sony Computer Entertainment and Netflix announced that the Netflix streaming service would also be available on PlayStation 3 in the United States. A paid Netflix subscription was required for the service. The service became available in November 2009. Initially users had to use a free Blu-ray disc to access the service; however, in October 2010 the requirement to use a disc to gain access was removed.
In April 2010, support for MLB.tv was added, allowing MLB.tv subscribers to watch regular season games live in HD and access new interactive features designed exclusively for PSN.
In November 2010, access to the video and social networking site MUBI was enabled for European, New Zealand, and Australian users; the service integrates elements of social networking with rental or subscription video streaming, allowing users to watch and discuss films with other users. Also in November 2010 the video rental service VUDU, NHL GameCenter Live, and subscription service Hulu Plus launched on PlayStation 3 in the United States.
In August 2011, Sony, in partnership with DirecTV, added NFL Sunday Ticket. Then in October 2011, Best Buy launched an app for its CinemaNow service. In April 2012, Amazon.com launched an Amazon Video app, accessible to Amazon Prime subscribers (in the US).
Upon reviewing the PlayStation and Netflix collaboration, Pocket-Lint said "We've used the Netflix app on Xbox too and, as good as it is, we think the PS3 version might have the edge here." and stated that having Netflix and LoveFilm on PlayStation is "mind-blowingly good."
In July 2013, YuppTV OTT player launched its branded application on the PS3 computer entertainment system in the United States.
OtherOS support
[
edit
]
PlayStation 3 initially shipped with the ability to install an alternative operating system alongside the main system software; Linux and other Unix-based operating systems were available. The hardware allowed access to six of the seven Synergistic Processing Elements of the Cell microprocessor, but not the RSX 'Reality Synthesizer' graphics chip.
The 'OtherOS' functionality was not present in the updated PS Slim models, and the feature was subsequently removed from previous versions of the PS3 as part of the machine's firmware update version 3.21 which was released on April 1, 2010; Sony cited security concerns as the rationale. The firmware update 3.21 was mandatory for access to the PlayStation Network. The removal caused some controversy; as the update removed officially advertised features from already sold products, and gave rise to several class action lawsuits aimed at making Sony return the feature or provide compensation.
On December 8, 2011, U.S. District Judge Richard Seeborg dismissed the last remaining count of the class action lawsuit (other claims in the suit had previously been dismissed), stating: "As a legal matter, [..] plaintiffs have failed to allege facts or articulate a theory on which Sony may be held liable."
As of 2014 the U.S. Court of Appeals for the Ninth Circuit partially reversed the dismissal and have sent the case back to the district court.
Leap year bug
[
edit
]
On March 1, 2010 (UTC), many of the original "fat" PlayStation 3 models worldwide were experiencing errors related to their internal system clock. The error had many symptoms. Initially, the main problem seemed to be the inability to connect to the PlayStation Network. However, the root cause of the problem was unrelated to the PlayStation Network, since even users who had never been online also had problems playing installed offline games (which queried the system timer as part of startup) and using system themes. At the same time many users noted that the console's clock had gone back to December 31, 1999. The event was nicknamed the ApocalyPS3, a play on the word apocalypse and PS3, the abbreviation for the PlayStation 3 console.
The error code displayed was typically 8001050F and affected users were unable to sign in, play games, use dynamic themes and view/sync trophies. The problem only resided within the 1st through to the 3rd generation original PS3 units while the newer "Slim" models were unaffected because of different internal hardware for the clock.
Sony confirmed that there was an error and stated that it was narrowing down the issue and were continuing to work to restore service. By March 2 (UTC), 2010, owners of original PS3 models could connect to PSN successfully and the clock no longer showed December 31, 1999. Sony stated that the affected models incorrectly identified 2010 as a leap year, because of a bug in the BCD method of storing the date. However, for some users, the hardware's operating system clock (mainly updated from the internet and not associated with the internal clock) needed to be updated manually or by re-syncing it via the internet.
On June 29, 2010, Sony released PS3 system software update 3.40, which improved the functionality of the internal clock to properly account for leap years.
Features
[
edit
]
PlayStation Portable connectivity
[
edit
]
PlayStation Portable can connect with PlayStation 3 in many ways, including in-game connectivity. For example, Formula One Championship Edition, a racing game, was shown at E3 2006 using a PSP as a real-time rear-view mirror. In addition, users are able to download original PlayStation format games from the PlayStation Store, transfer and play them on PSP as well as PS3 itself. It is also possible to use the Remote Play feature to play these and some PlayStation Network games, remotely on PSP over a network or internet connection.
Sony has also demonstrated PSP playing back video content from PlayStation 3 hard disk across an ad hoc wireless network. This feature is referred to as Remote Play located under the browser icon on both PlayStation 3 and PlayStation Portable. Remote play has since expanded to allow remote access to PS3 via PSP from any wireless access point in the world.